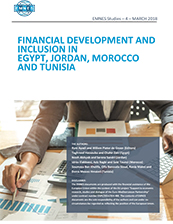 Financial Development and Inclusion in Egypt, Jordan, Morocco and Tunisia
Rym Ayadi and Willem Pieter de Groen (Editors), Taghreed Hassouba and Chahir Zaki (Egypt), Nooh Alshyab and Serena Sandri (Jordan), Idriss Elabbassi, Aziz Ragbi and Said Tounsi (Morocco), Soumaya Ben Khelifa, Olfa Benouda Sioud, Rania Makni and Dorra Mezzez Hmaied (Tunisia)
27/03/2018
The link between financial development and sustainable economic growth is complex. The academic literature published on this topic in recent years finds that financial development contributes to growth up to a certain tipping point. Beyond this tipping point, financial development would make the overall system more fragile. The benefits of financial development and the level of the tipping point seem to vary between economies. Among the factors that contribute to the variance are the composition of the financial system (institutions and market based intermediation), access (financial inclusion) and efficiency (government interventions, allocation, etc.). The complexity of the relationship between financial development and economic growth requires the assessment of the factors affecting the relationship in order to determine the most effective policies. In this study, we provide an assessment of the various factors determining financial development in terms of the financial sector structure, contribution to the economy and financial inclusion in four countries mainly Egypt, Jordan, Morocco and Tunisia.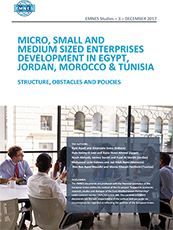 Micro, Small and Medium Sized Enterprises Development in Egypt, Jordan, Morocco & Tunisia: Structure, Obstacles and Policies
Rym Ayadi and Emanuele Sessa, Hala Helmy El Said and Rana Hosni Ahmed, Nooh Alshyab, Serena Sandri and Fuad Al Sheikh, Mohamed Larbi Sidmou and Jad Allah Rami, Rim Ben Ayed Mouelhi and Monia Ghazali Ferchichi
04/12/2017
The study provides a snap shot of the current status quo in Egypt, Jordan, Morocco and Tunisia regarding the development of their private sectors, with a focus on micro, small and medium enterprises. It will be used as a baseline for the definition of a robust research agenda that ultimately aims at providing sound recommendations for policy makers to improve developmental outcomes and, especially, the contribution of micro, small and medium enterprises to employment creation.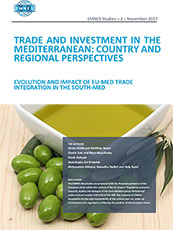 Trade and investment in the Mediterranean: Country and regional perspectives
Cinzia Alcidi and Matthias Busse, Chahir Zaki and Nora AbouShady, Nooh Alshyab, Abdelkader Ait El Mekki, Abdessalem Abbassi, Raoudha Hadhri, Hela Ayari
12/11/2017
The Southern Mediterranean region is economically closely linked to the EU. Both regions have sought to tighten this relationship via preferential trade agreements. Along four case countries, namely Egypt, Jordan, Morocco and Tunisia, this study provides an overview of the current state and trend of trade flows vis-à-vis the EU. The four country reports evaluate the process of trade liberalization and its impact on trade with the EU and the rest of the world. Recently, liberalisation efforts have been channeled into the Deep and Comprehensive Free Trade Agreements (DCFTAs), which focus on non-tariff barriers and investment obstacles. The study emphasises that while impact assessment reports predict large economic gains for the Southern Mediterranean region from DCFTAs, negotiation have lately slowed down. The DCFTAs may have a large potential but the right sequencing and velocity need to be carefully established and prepared to ensure that the society at large benefits.