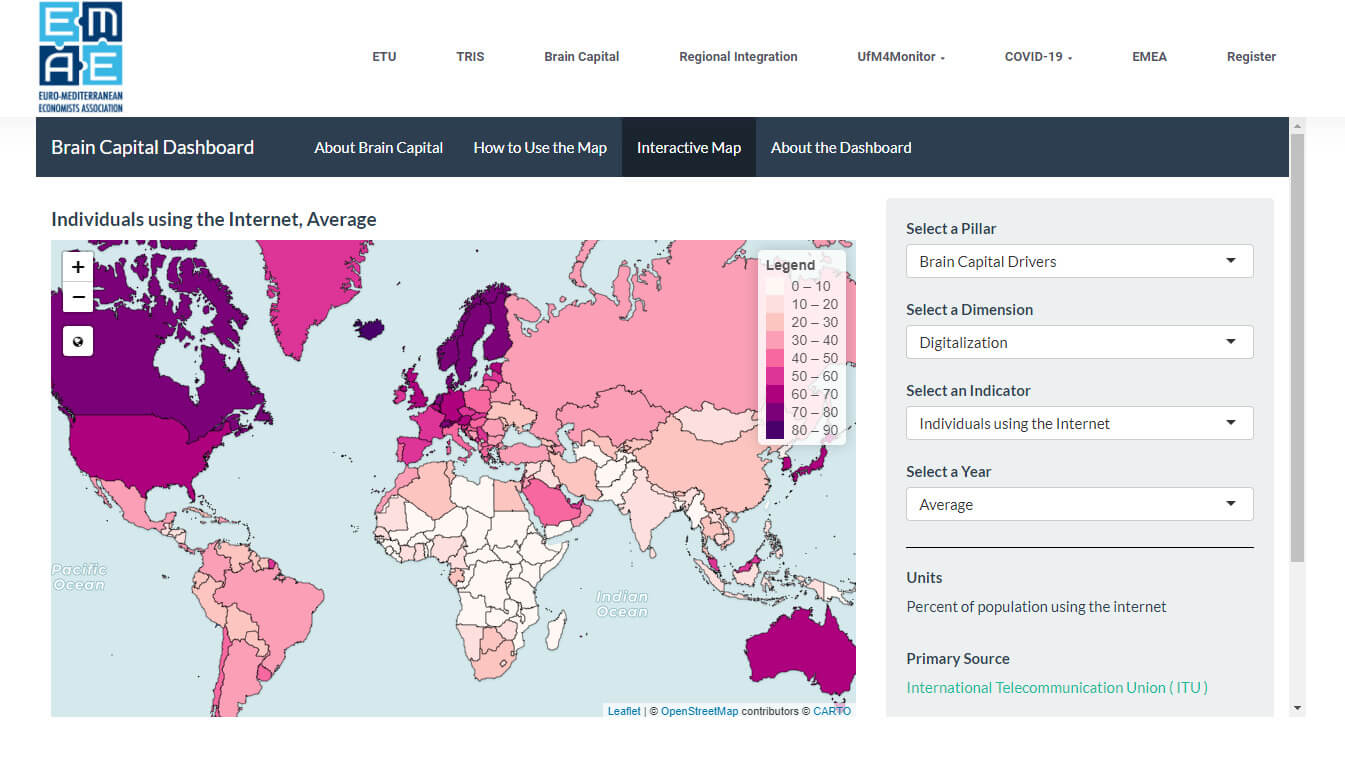 Tuesday, September 19th, 2023 marked the official launch of the Global Brain Capital Dashboard, at the Science Summit of the 78th United Nations General Assembly. Prof. Rym Ayadi, President and Founder of the Euro-Mediterranean Economists Association, CEPS Senior Advisor, and co-founder of the Brain Capital Alliance, launched the Brain Capital Dashboard during her keynote speech in a session entitled, "Brain Capital Building: Brain Deals to Meet SDGs by 2030".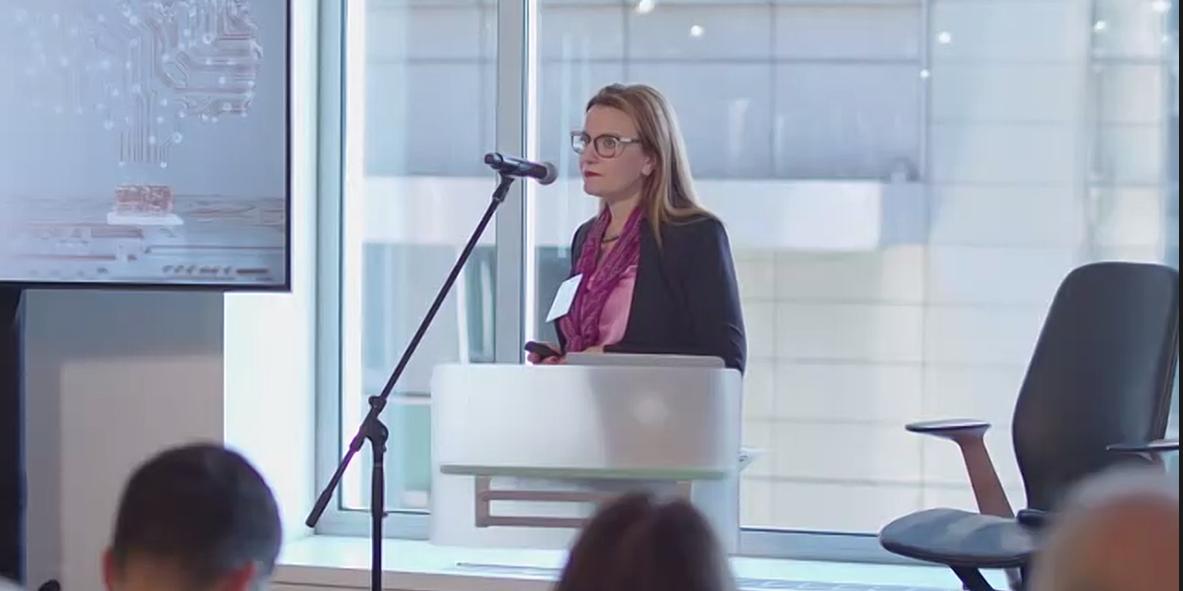 Brain Capital Dashboard is the culmination of a two-year research effort from the EMEA team made in collaboration with international experts and innovators across several different fields, from neuroscience to economics and the creative sector. Since 2021, the Working Group for the Brain Capital Initiative has sought to define the Brain Capital concept and find relevant literature and data for its measurement. The first version of the dashboard was pre-launched in July 2022.
Brain Capital itself is defined as productive and complex capital stock that accumulates over the lifecycle, composed of a multi-dimensional set of factors. Brain Capital is measured as the cumulative brain health and brain skills of a society, influenced by drivers that either favor or jeopardize its development.
Brain Capital Dashboard is composed of three pillars identified for the Brain Capital monitoring:
Pillar 1: Brain Capital Drivers
Pillar 2: Brain Health
Pillar 3: Brain Skills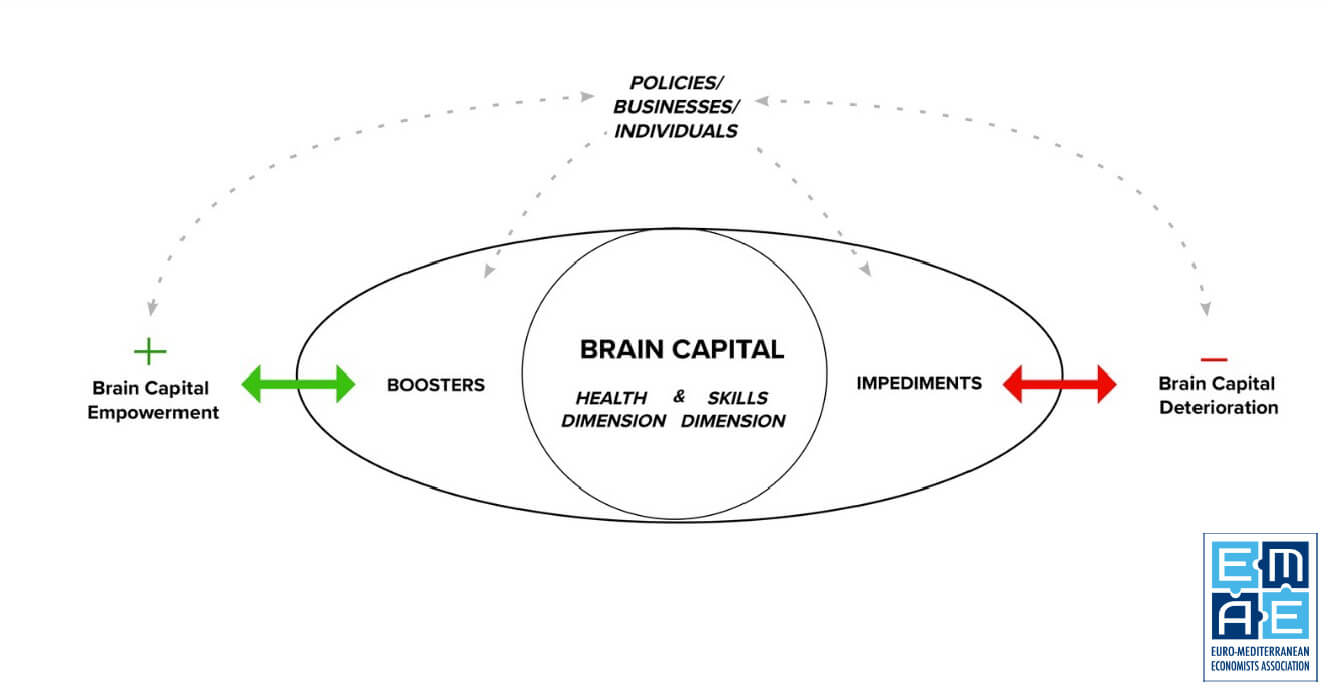 Brain Capital Drivers are all the key factors impacting the accumulation of Brain Capital over the life course. For example, the social, cultural, and natural environments that a person experiences throughout their life influences how they build and maintain Brain Capital.
The dimensions that represent Brain Capital Drivers are:
Pre-natal related issues
Food and nutritional security
Health services and public policies
Natural environment and climate
Cultural environment
Social conditions
Education
Digitalization
Brain health refers to, "the preservation of optimal brain integrity and mental and cognitive function and the absence of the overt neurological disorders" (Wang et al., 2020). While there is a lack of understanding about what optimal brain health is and how to promote it, Pillar 2 aims to pave the way for the identification of key dimensions to monitor it.
The dimensions that represent Brain Capital Health are:
Brain disorders
Healthy brain functioning
Childhood/adolescence related issues
Ageing related issues
The Pillar 3 of the Brain Capital dashboard seeks to monitor the key skills that indicate a well-functioning brain. Strong brain skills provide individuals and societies the ability to adapt to the accelerating global environment of social, political, and economic change.
The dimensions that represent Brain Capital Health are:
Cognitive Skills
Non-Cognitive Skills
The Brain Capital concept provides a better understanding of the economic value that can be derived through identifying and unlocking latent human brain potential, and the Brain Capital Dashboard aims at tracking and monitors Brain Capital globally and over time. The EMEA team is continuously working on updating the dashboard with new indicators and data following discussions with experts and stakeholders worldwide.
On 25 September 2023, Brookings Institution, one of the leading think tanks in the world, published the paper "The global brain capital dashboard" co-authored by EMEA President, Prof Rym Ayadi, EMEA Advisory Board member Harris Eyre, Brookings Senior Fellow Carol Graham, EMEA Researcher Sara Ronco and EMEA Junior Researcher Elena Stotts-Lee.
The paper is available at https://www.brookings.edu/articles/the-global-brain-capital-dashboard/
Quotes from the Brain Capital Alliance Members:
"The Dashboard offers us a completely new way of tracking progress around brain capital policy innovation, impact, and outcomes. We seek economy-wide reforms so we need data and high-level dialogues. The Dashboard fundamentally unlocks these opportunities"
– Dr. Harris Eyre, Fellow in Brain Health
at the Baker Institute for Public Policy, Member of the Advisory Board of the
Euro-Mediterranean Economists Association and Lead of the Brain Capital Alliance
"The Dashboard provides a panoramic view of brain capital, capturing the brain health, cognitive, and non-cognitive facets. With real-time insights and actionable data, it not only guides economic strategies but also sharpens policy decisions, ensuring a holistic approach to harnessing the complete spectrum of mental faculties and emotional well-being."
– Prof. Rym Ayadi, President and Founder of the
Euro-Mediterranean Economists Association
Co-Lead of the Working Group for Brain Capital Measurement and Co-Lead of the Brain Capital Alliance
"The Brain Capital Dashboard is an essential reservoir of knowledge for guiding policy, so that it reflects the significance of brain skills and brain health. I am convinced it will serve as a yardstick for making the notion of brain capital thoroughly relevant also in the context of SDG implementation."
– Paweł Świeboda, Director General of the Human Brain Project
CEO of EBRAINS, Member of the Advisory Board of the
Euro-Mediterranean Economists Association and Member Brain Capital Alliance
"Our multi-disciplinary team worked diligently to push beyond traditional metrics of global competitiveness to spotlight a holistic triad: cognitive, emotional, and social brain resources. In doing so, we have set the stage for groundbreaking policy innovation by operationalizing abstract concepts deeply rooted in psychology, neuroscience, and economics. The launch of the Global Brain Capital Dashboard isn't just a milestone; it's a catalyst that redefines global competitiveness by giving brain health, brain skills and human flourishing a seat at the table of innovation."
– Theo Edmonds JD,MHA,MFA, Culture Futurist, Member of the Advisory Board of the
Euro-Mediterranean Economists Association and Member Brain Capital Alliance
"The Brain Capital dashboard is the culmination of the collective efforts of neuroscientists, cognitive and behavioral scientists, medical professionals, economists and statisticians. It brings the concepts of brain capital, cognitive functioning, and brain health to life, offering a guide to policymakers to assess their actions in a systemic way to use brain science to better combat a range of problems – from climate change and the productivity slowdown to increasing inequalities and stagnating wellbeing."
– William Hynes, Senior Advisor to the Secretary General and
Head of the New Approaches to Economic Challenges (NAEC) Unit of the OECD,
Member of the Advisory Board of the Euro-Mediterranean Economists Association
and Member Brain Capital Alliance