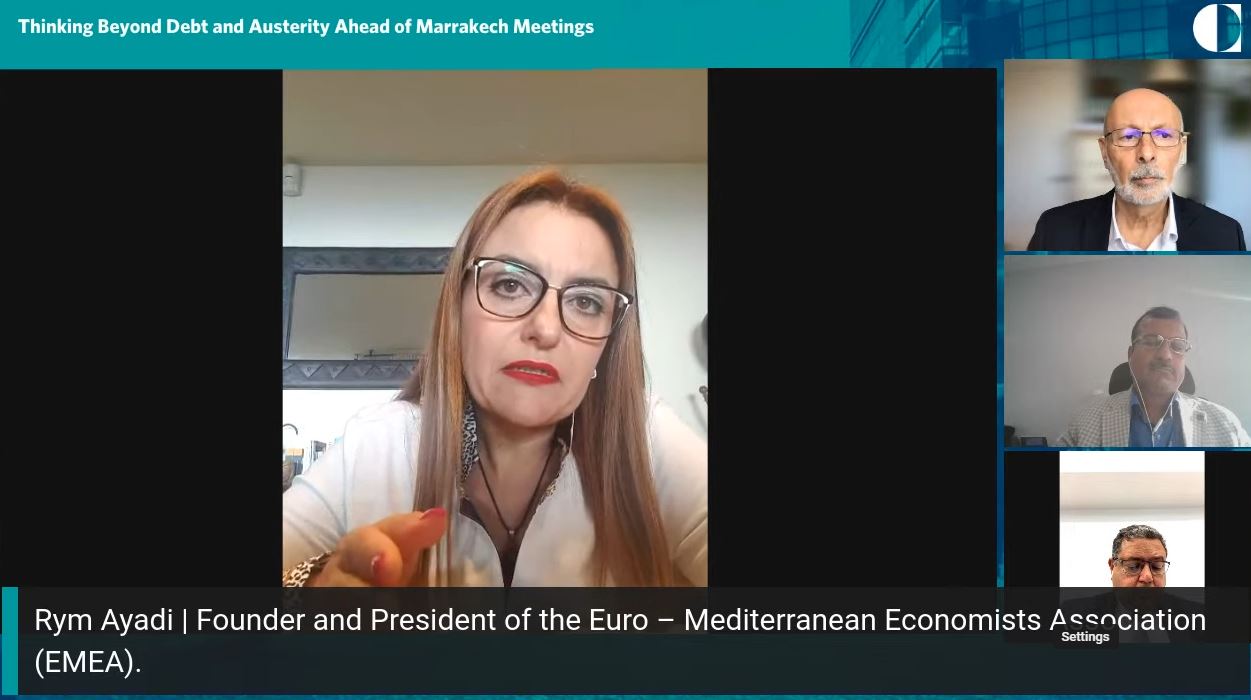 EMEA President. Prof. Rym Ayadi, Professor at Bayes Business School, City University of London, Chair of the Banking Stakeholders Group (BSG) of the European Banking Authority (EBA), and Senior CEPS Advisor was one of the speakers of the high level panel "Thinking Beyond Debt and Austerity ahead of the IMF – World Bank 2023 Marrakech Meetings, which was organised online by the Malcolm H. Kerr Carnegie Middle East Center on 04 October 2023.
 The panel included Ziad Bahaa El Din, Former Egyptian Deputy Prime Minister and Niranjan Sarangi, Senior Economic Affairs Officer in the Shared Economic Prosperity Cluster, UN-ESCWA and it was moderated by Yezid Sayegh, Senior Fellow of the Malcolm H. Kerr Carnegie Middle East Center.
In her intervention Prof. Ayadi underlined: "The conditionality imposed by international financial institutions should give way to transparency requirement of use of proceeds, ensuring each dollar is unequivocally tied to tangible progress in the Sustainable Development Goals."
Low- and Middle-income countries in the Middle East and North Africa (MENA) have been facing serious debt sustainability challenges as a result of deeply embedded structural weaknesses as well as adverse external shocks that have hit the global economy. Over the past decade, several MENA nations have repeatedly engaged with the International Monetary Fund (IMF) in pursuit of economic stability, climate action, Sustainable Development Goals investments, and the fulfillment of their citizens' aspirations. However, progress has proven elusive. In fact, the IMF and countries in debt distress, notably Tunisia, Egypt, and Lebanon, find themselves at an impasse.
The panel discussion underlined the urgency of reevaluating debt frameworks to ensure social and environmental sustainability, navigating the intricate political economy of reforms to expand fiscal capacity and stimulate growth, and exploring the potential of Climate/SDGs debt swaps and Special Drawing Rights (SDR) reallocation to accelerate investments in climate action and inclusive development.