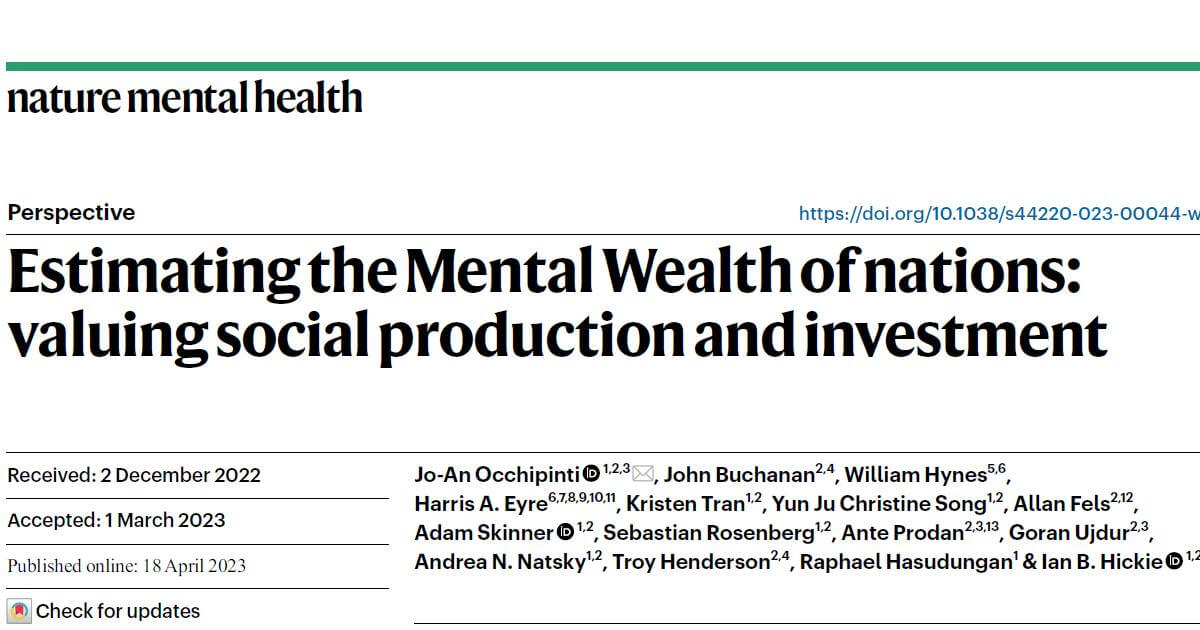 Barcelona, Spain, 24th April, 2023: There is a growing global movement questioning the appropriateness of gross domestic product (GDP).  Mental Wealth metric offers a new approach. Mental Wealth broadens the boundary of production to include the value of goods and services provided by populations that are not currently monetized but make genuine contributions to social prosperity and quality of life. Hence, the Mental Wealth metric provides a holistic measure of national prosperity, capturing the value of both economic and social production, and recognizing the fundamental importance of brain capital and collective cognitive and emotional health and well-being. EMEA Advisor, Dr Harris Eyre, fellow at Rice University's Baker Institute and senior fellow with the Meadows Mental Health Policy Institute, coauthored a major report published last week in Nature Mental Health.
This report, led by Dr Jo-An Occhipinti, Co-director of the Mental Wealth Initiative at Brain and Mind Centre of The University of Sydney, provides a simple, practical strategy for augmenting GDP by monetizing social production, thereby establishing a more accurate indicator of the wealth of nations.
Mental Wealth is a holistic measure of national prosperity that monetizes the value generated by a nation's economic and social productivity. Mental Wealth is underpinned by a nation's collective mental assets (brain capital) and influenced by a range of health, social, economic, and environmental factors.
EMEA President and Founder, Dr Rym Ayadi, notes the synergies of this Mental Wealth approach with the Brain Capital Dashboard. 'There is clearly close alignment between Mental Wealth and Brain Capital. We look forward to continuing to collaborate with Dr Occhipinti and colleagues in the coming years to look for ways to roll out this work across nations in Europe, North Africa and the Middle East'. Dr Ayadi is also a senior advisor to the Center for European Policy Studies.
More about the paper:
Occhipinti, JA., Buchanan, J., Hynes, W. et al. Estimating the Mental Wealth of nations: valuing social production and investment. Nat. Mental Health 1, 247–253 (2023). https://doi.org/10.1038/s44220-023-00044-w https://www.nature.com/articles/s44220-023-00044-w