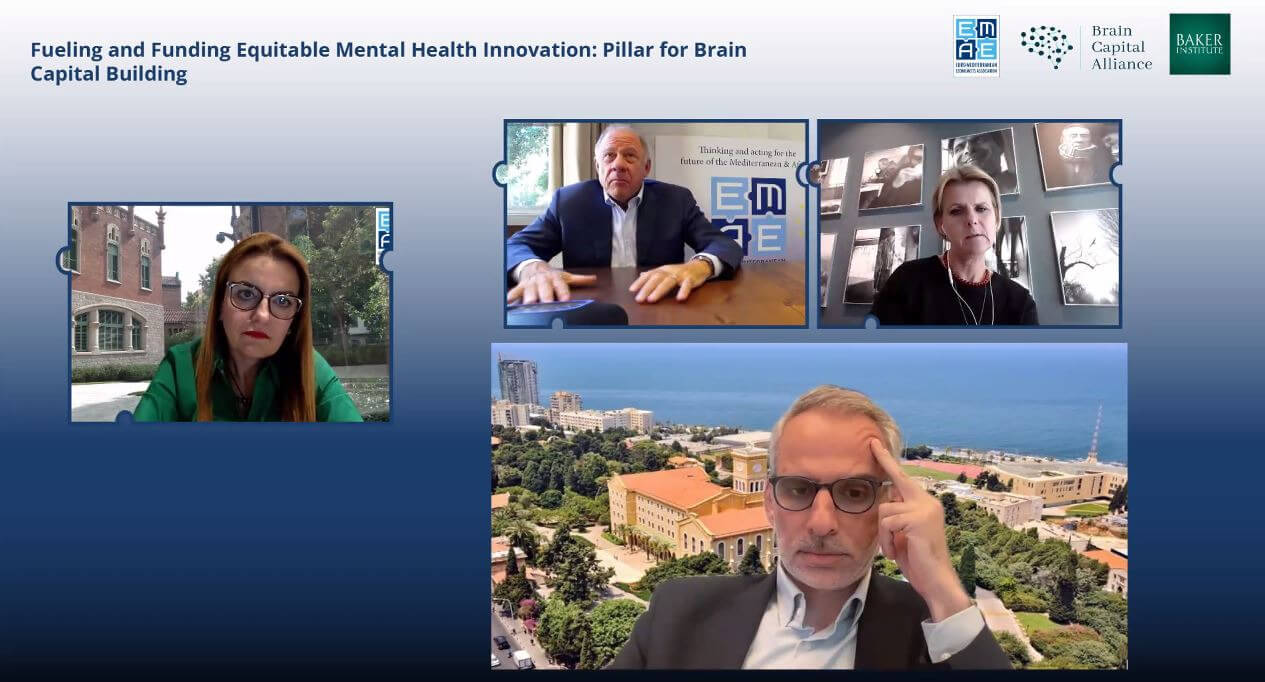 The webinar "Fueling and Funding Equitable Mental Health Innovation – Pillar for Brain Capital Building" was organised by the Euro-Mediterranean Economists Association – EMEA and the Brain Capital Alliance in collaboration with Rice University's Baker Institute for Public Policy and took place online on Wednesday 11th October 2023.
The event was motivated by the recent launch of the Brain Capital Dashboard at the Science Summit of the United Nations General Assembly and following the publication of "The Global Brain Capital Dashboard" from Brookings Institution.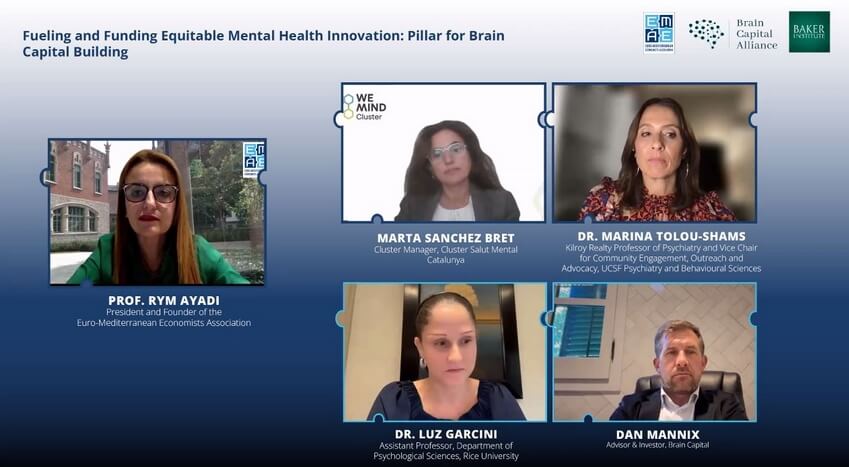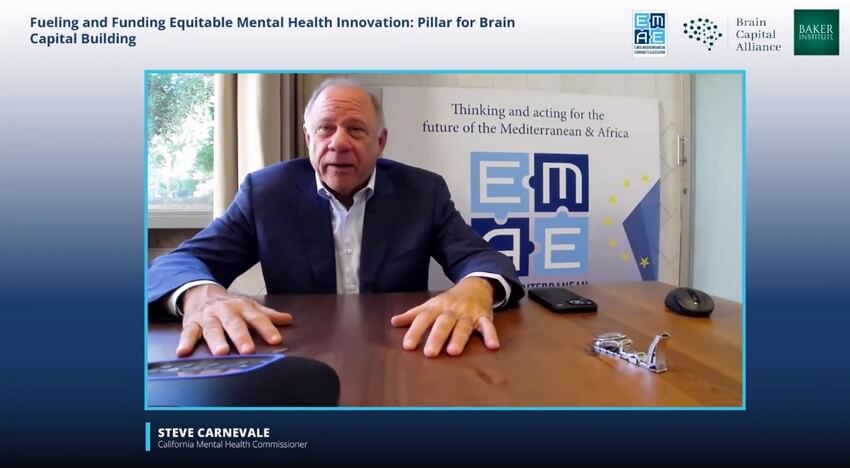 The webinar was moderated by Prof. Rym Ayadi, President and Founder of the Euro-Mediterranean Economists Association – EMEA. With her at the EMEA Office is Sant Pau was also Steve Carnevale, California Mental Health Commissioner, and Dan Mannix, Brain Capital Advisor & Investor.
Closing the event Prof. Ayadi highlighted "Fueling and funding equitable mental health innovation is not just an act of compassion; it's an investment in building the very foundation of our society's brain capital—where brain health and skills converge for a brighter future."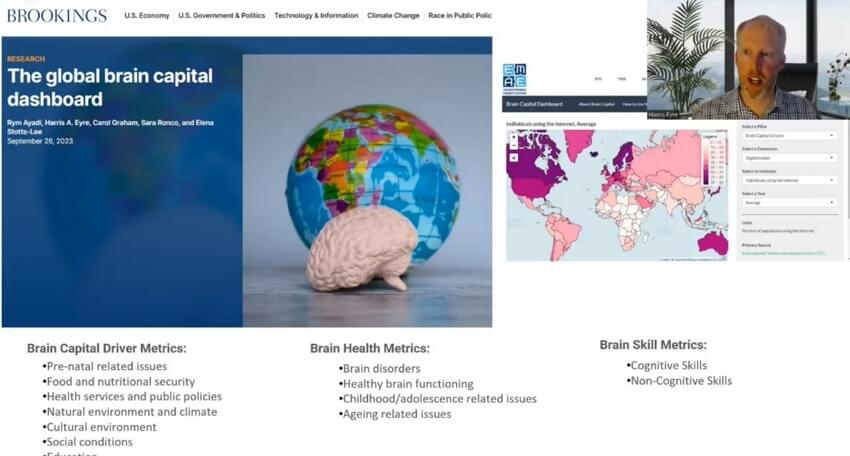 Brain Capital incorporates an individual's cognitive, emotional, and social brain resources. Mental health is a key component of brain capital given mental health disorders cost trillions of dollars per year to the global economy in lost productivity. Disorders such as anxiety, depression, bipolar, and schizophrenia also impact individuals, families, and communities.
Equity in mental health refers to ensuring that everyone has a fair and just opportunity to attain their highest level of mental well-being. By prioritizing equity in mental health innovation, we can ensure that the most vulnerable and marginalized populations have access to the care and support they need. This not only benefits individuals but also strengthens communities and society as a whole.
Event Agenda:
Moderator: EMEA President Prof. Rym Ayadi, Professor Bayes Business School and CEPS Senior Advisor, Chair of the European Banking Authority – Banking Stakeholders Group
Speakers:
Dr. Harris Eyre, Co-founder of Brain Capital Alliance, Fellow at Baker Institute, Senior Fellow at Meadows Mental Health Policy Institute
Steve Carnevale, California Mental Health Commissioner
Tina Hjortlund, Senior Director, Head of Global Public Affairs and D&I Officer, Lundbeck
Dr. Fadi Maalouf, Professor and Chair of Psychiatry, American University of Beirut
Dr. Facundo Manes, President of the Committee on Science, Innovation and Technology of the Argentine Parliament
Discussants:
Dr. Marina Tolou-Shams, Kilroy Realty Professor of Psychiatry and Vice Chair for Community Engagement, Outreach and Advocacy, UCSF Psychiatry
Marta Sanchez Bret, Cluster Manager, Cluster Salut Mental Catalunya
Dr. Luz Garcini, Assistant Professor, Department of Psychological Sciences, Rice University
Dan Mannix, Advisor & Investor, Brain Capital
The Global Brain Capital Dashboard seeks to measure and monitor the concept of Brain Capital. To build the dashboard, novel indicators were extracted from a wide range of data sources under the banner of three pillars: Brain Capital Drivers, Brain Health, and Brain Skills. The Brain Capital concept and dashboard help provide a better understanding of the social and economic value that can be derived through fueling and funding more equitable mental health policies. The dashboard was formally launched at the Science Summit of the 78th UN General Assembly – September 2023.