The webinar took place online on Thursday 18 May 2023 and discussed the paper "Good Food is Vital for Brain Health So We Must Change the Food Industry" which was published by Rice University's Baker Institute for Public Policy. The paper's authors argue that today's food environments and food systems around the world are dominated by the corporate-industrial food industry and that this is undermining brain capital and therefore sustainable human development and public health on a global scale. Respecting the intertwined relationships between food, brain capital, health, and sustainable environments is essential for the future of humanity.
It was organized by EMEA in collaboration with the Brain Capital Alliance, IMPACT at Deakin, Food & Mood Centre, The Baker Institute for Public Policy at Rice University, and OECD Neuroscience-inspired Policy Initiative,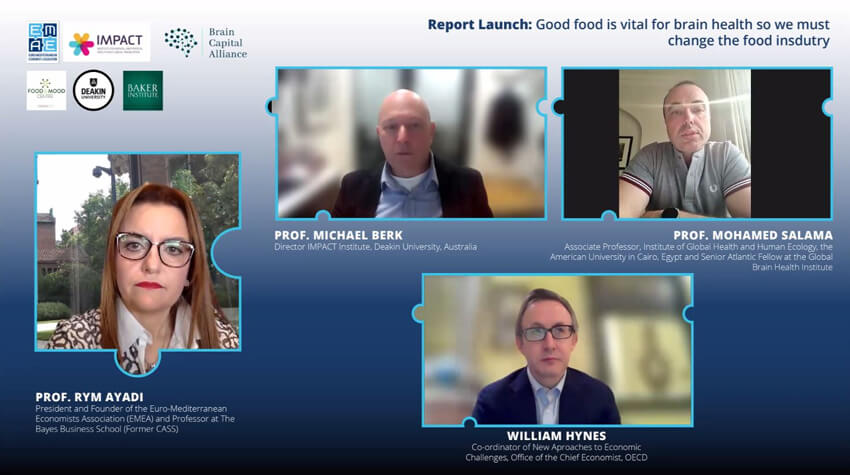 Closing the webinar Prof Rym Ayadi, President of the Euro-Mediterranean Economists Association – EMEA and Professor at Bayes Business School, highlighted: "A decisive global action is needed to tackle the climate and brain health detriments of the industrialised food systems".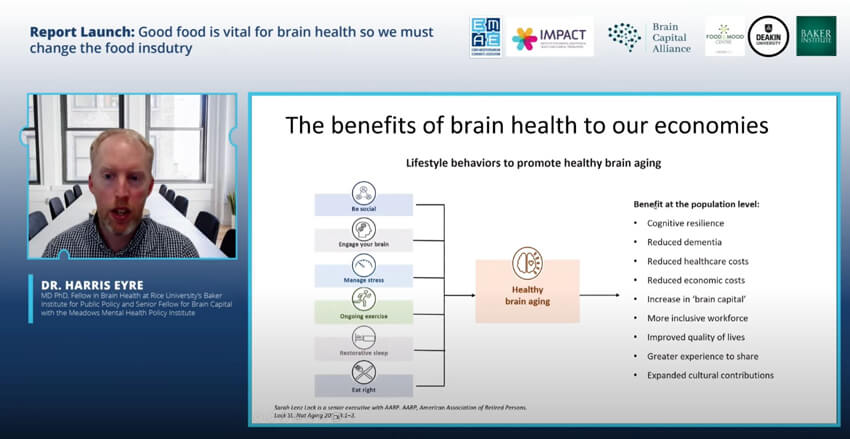 Harris Eyre MD PhD, Fellow in Brain Health at Rice University's Baker Institute for Public Policy, Senior Fellow for Brain Capital with the Meadows Mental Health Policy Institute and EMEA Advisor, underlined that "Good food and nutrition is a key vector to boosting global brain capital, fundamental to meeting modern societal challenges and driving innovation"
Agenda:
Moderator: Prof. Rym Ayadi, President and Founder, Euro-Mediterranean Economists Association (EMEA)
Speakers:
Dr. Harris Eyre, MD PhD, Fellow in Brain Health at Rice University's Baker Institute for Public Policy and Senior Fellow for Brain Capital with the Meadows Mental Health Policy Institute
Prof. Felice Jacka OAM, Co-Director of the Food & Mood Center at Deakin University
Prof. Suzanne L Dickson, President of the European Brain Council, Secretary of the European College of Neuropsychopharmacology, Professor of Physiology/Neuroendocrinology at the University of Gothenburg, Sweden
Discussants:
Prof. Michael Berk MD PhD, Director of IMPACT, the Institute for Mental Health and Physical Health and Clinical Translation at Deakin University
Prof. Mohamed Salama, Associate Professor, Institute of Global Health and Human Ecology, the American University in Cairo, Egypt and Senior Atlantic Fellow at the Global Brain Health Institute
William Hynes, Co-ordinator of New Approaches to Economic Challenges, Office of the Chief Economist, OECD