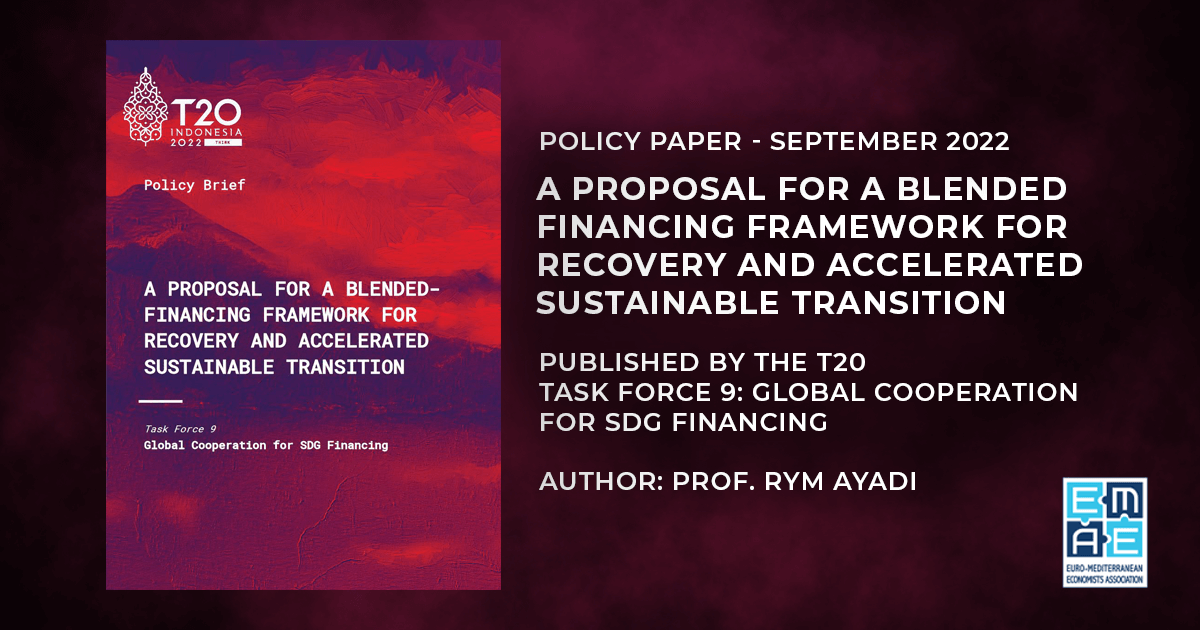 We are happy to announce that the policy brief "A proposal for a blended financing framework for recovery and accelerated sustainable transition" has been published by the Task Force 9: Global Cooperation for SDG Financing, of the T20. The policy brief has been authored by Prof. Rym Ayadi – Professor at The Bayes Business School and President of the Euro-Mediterranean Economists Association – EMEA.
Whilst the COVID-19 pandemic continues its successive waves worldwide, the eruption of the war in Ukraine has disrupted the global economic recovery. Low-income countries (LICs) and lower-middle-income countries (LMICs) will face major financial and economic challenges to alleviating the social cost of the pandemic, together with rising food and energy prices, whilst committing to the net-zero scenario and complying with the United Nations Sustainable Development Goals (SDGs).
The paper proposes a public-private sustainable finance fund/plan as part of the global economic recovery plan to accelerate the sustainable transition. This proposal extends a previous proposal1 introducing a mechanism, which includes the private sector, aimed at restructuring the existing piles of sovereign debt and interest and extending it to finance a sustainable recovery, compliant with the SDG principles whilst committing to the netzero scenario.
The Think 20 (T20) is an engagement group comprised of think tanks whose primary challenge is to add value to the G20 process with evidence-based public policy proposals.