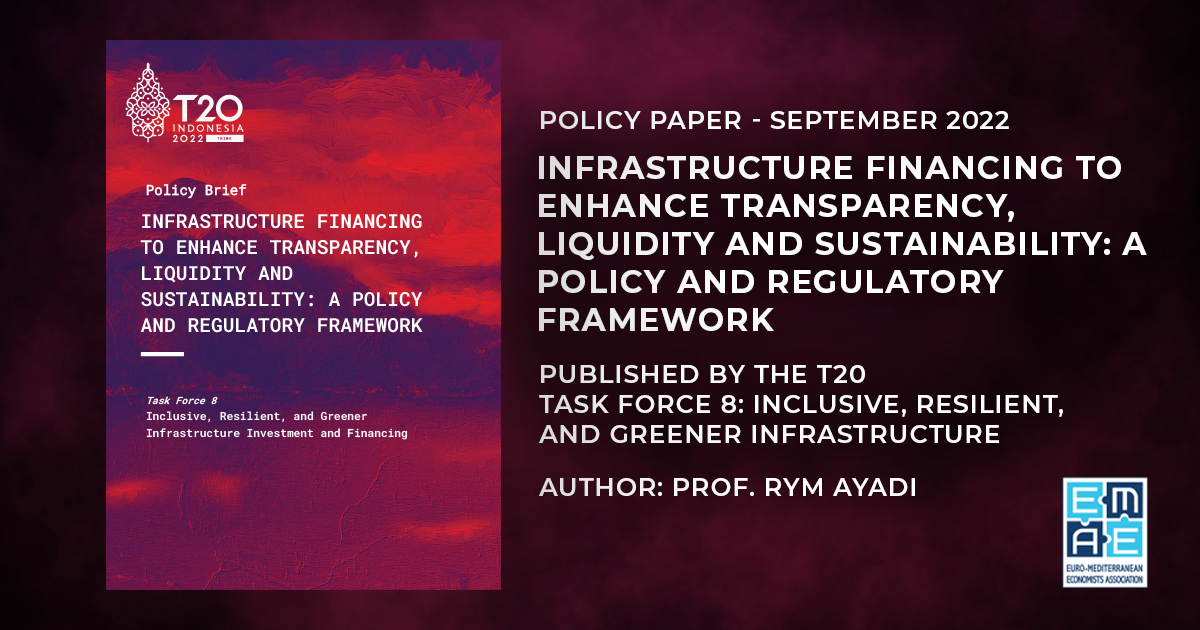 We are honored to announce that the policy brief "Infrastructure financing to enhance transparency, liquidity and sustainability: A policy and regulatory framework" has been published by the Task Force 8: Inclusive, Resilient, and Greener Infrastructure Investment and Financing, of the T20. The policy brief has been authored by Prof. Rym Ayadi – Professor at The Bayes Business School and President of the Euro-Mediterranean Economists Association – EMEA.
Amidst global challenges and uncertainties, low-income countries (LICs) and lower middle-income countries (LMICs) will continue borrowing and pushing debt levels to further heights, in order to alleviate social costs and to jump-start the recovery phase, which is expected to be more inclusive and green.  In the absence of a comprehensive financing infrastructure framework to develop their economies, these countries will not be able to build inclusive, green economic resilience and, hence, continue the payment of the debt stock they have.
The proposal of this new paper is to outline the pillars of the regulatory framework (policy, tools and institutions) that would regulate a new market for financing infrastructure development with enhanced transparency, liquidity and sustainability. The domestic and international dimensions will be highlighted, introducing the two-tiered regulatory framework.
The Think 20 (T20) is an engagement group comprised of think tanks whose primary challenge is to add value to the G20 process with evidence-based public policy proposals.