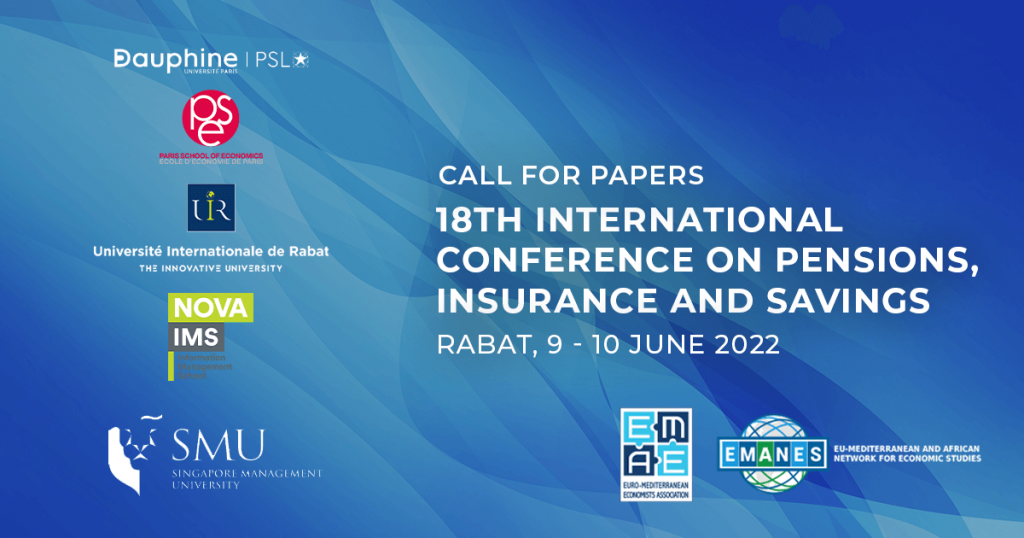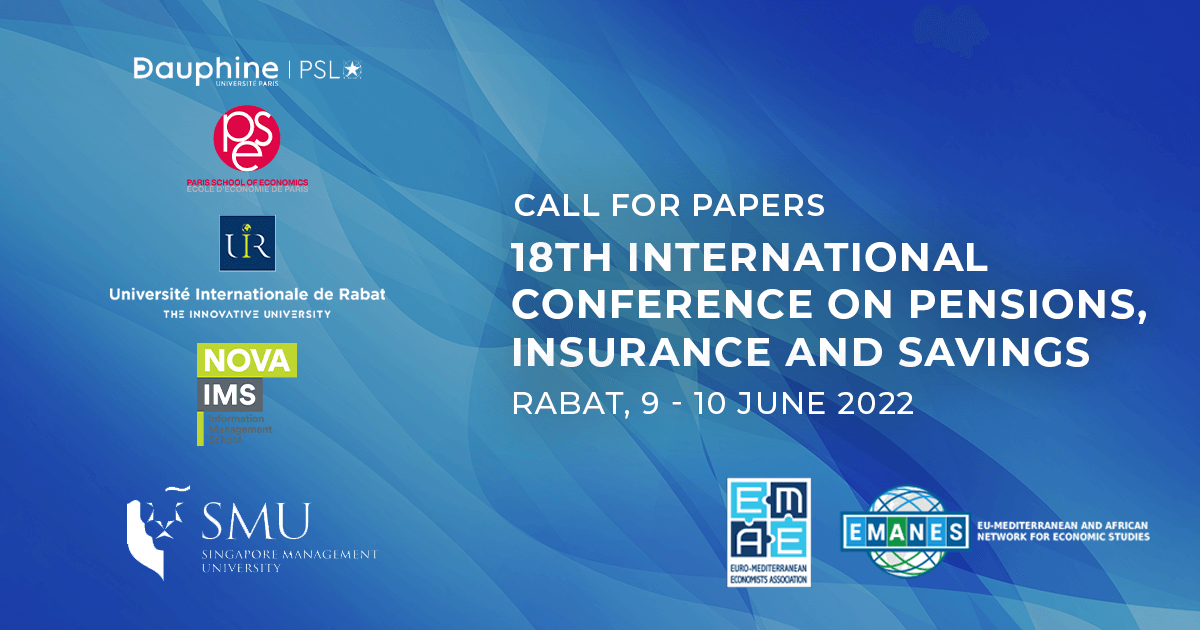 The conference "Pension, Insurance and Savings" has been organized in Paris-Dauphine University since 2003. The conference is dedicated to models and methods that explain/develop different ways to mobilize savings, to invest pension assets, to finance and manage retirement regarding demographic trends, old-age dependency risks and other tools helping a better management of financial and non-financial risks.
The 18th edition of the conference is organized in partnership with International University of Rabat (UIR), Paris School of Economics (PSE), Euro-Mediterranean Economists Association (EMEA), EU-Mediterranean and African Network for Economic Studies (EMANES, formerly EMNES), Nova University and Singapore Management University, and it is hosted by UIR in Rabat, Morocco.
After a 2-year break due to the COVID-19 pandemic, the conference will resume face to face under strict sanitary conditions. The aim of the conference is to provide researchers a friendly environment to present and discuss their latest research.
18th International Conference on Pensions, Insurance and Savings Call for Papers
Topics of interest include:
1.       The extension of Social Security and Pension Redesign
2.       Population Ageing and Financial Market Issues
3.       Integrating the accumulation and decumulation phases of assets Housing wealth, Equity Release
4.       Schemes and the financing of retirement income, health and long-term care
5.       The interest rate environment and the future of pensions and retirement savings.
6.       Effects of Financial Inclusion on the Distribution of Lifetime Income
7.       Social security schemes reforms in the light of the COVID19 pandemic
8.       Big Data analytics and social security
9.       Modelling and managing longevity risks
The Conference holds a SIGMA ALLIANCE Workshop to showcase research on aging issues (societal impact and global management alliance). There would also be a special session dedicated to "Young and early career researchers". They are highly encouraged to submit their papers (even preliminary research).
Researchers interested in presenting a paper are requested to submit a complete version to international.pension.workshop@gmail.com with "Submission" in the subject line. Participants are encouraged to stay for the full two days of the conference.
Important dates:
Papers submissions deadline: 1 May 2022
Conference dates: 9 – 10 June 2022
For more information please visit http://international-pension-workshop.com/ or contact Prof. Najat El Mekkaoui, University Paris Dauphine PSL, at najat.el-mekkaoui@dauphine.psl.eu