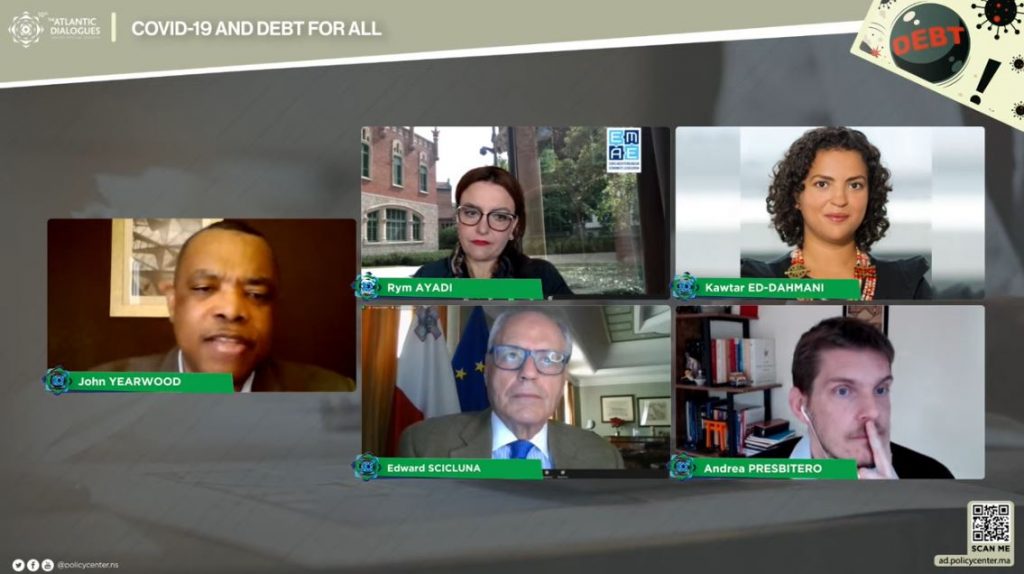 The President of the Euro-Mediterranean Economists Association – EMEA, Prof. Rym Ayadi participated at the 10th edition of the Atlantic Dialogues which were held online during November and December 2021.
Prof. Ayadi participated at the session "Covid-19 and Debt for All" which took place on 17 December 2021. The panel included Kawtar Ed-Dahmani, Managing Director Barings-Emerging Markets Debt, Andrea Presbitero, Senior Economist, Research Department of the International Monetary Fund (IMF), and Prof Edward Scicluna, Governor, Central Bank of Malta. The session was moderated by John Yearwood, Global News Editor, Politico.
The increase in public spending on health and social protection because of the pandemic, combined with the decrease in tax revenues, has led to a widening of deficits and an acceleration of the pace of indebtedness, which has added to the upward trend already underway since 2010. The world is thus faced with a dilemma: ensuring a sustainable economic recovery without exacerbating the risks of a global debt crisis.
Prof Ayadi underlined in her intervention that "The outlook is not very bright at all without a decisive global action to reduce the economic hardship, even if we might expect to go into recovery path. It is important to use the resources available and pull them together instead of having fragmented efforts. We absolutely need a collaborative strategy and an action plan for those countries to move on" and that "the money that we borrow has to go to a sustainable purpose that creates a multiplier effect for the economies. Through this, we can aspire to attract foreign and domestic investments, and without the private sector it is very difficult to achieve all of this."
Since its inception in 2012, the Atlantic Dialogues (AD) conference has become a well-established annual meeting point taking place in Marrakesh, bringing together around 400 high-level senior officials, business leaders, academics, opinion shapers and civil society actors from the Atlantic space and beyond.
The Atlantic Dialogues are organised by the Policy Center for the New South (PCNS), a Moroccan think tank aiming to contribute to the improvement of economic and social public policies that challenge Morocco and the rest of Africa as integral parts of the global South. PCNS is an associate member Euro-Mediterranean Network for Economic Studies – EMNES.