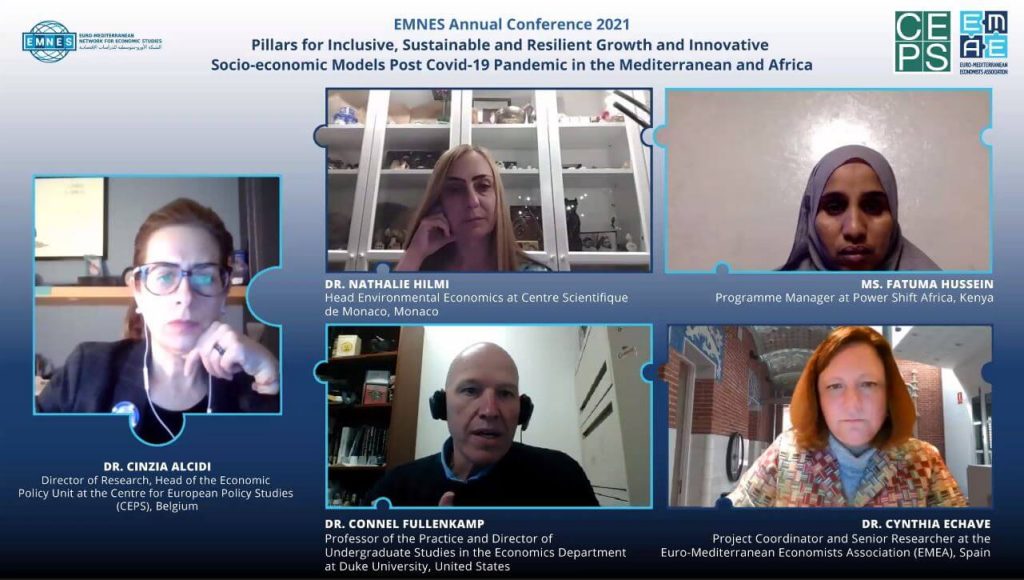 The Euro-Mediterranean Network for Economic Studies EMNES Annual Conference 2021: "Pillars for Inclusive, Sustainable and Resilient Growth and Innovative Socio-Economic Models Post COVID-19 Pandemic in the Mediterranean and Africa" took place online on Zoom, on 09 and 10 December 2021.
The Conference included EMNES Researchers, EMNES Fellows, Associate Committee and Advisory Committee members, international economists, policy experts and policy makers.
The keynote speech of the Conference "New Approaches to Economic Challenges" was delivered by Dr. William Hynes, Senior Advisor to the OECD Secretary General and Head of OECD-NAEC.
The video and transcript of the keynote speech are available at https://conference2021.emnes.org/keynote-speakers/ along with the video of the welcoming address by H.E. Dr. Hala el Said, Minister of Planning and Administrative Reforms, Egypt.
The video and report of the Policy Session on "Green Transition in the Mediterranean and Africa: What opportunities and challenges post the Glasgow Climate Pact?" have also been published and are available at https://conference2021.emnes.org/policy-session/