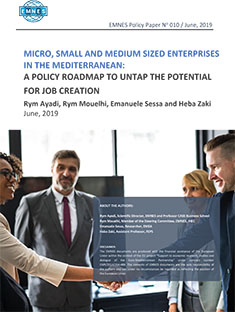 EMNES Policy Paper 010
The objective of this policy brief is to formulate a policy roadmap to untap the potential for employment creation by MSMEs in SEMCs, with a particular focus on Egypt, Jordan, Morocco and Tunisia – building on the findings of four years of research on MSME development carried out under EMNES. MSMEs have an important role to play in creating much needed employment opportunities, but their development is currently hindered by a number of obstacles related to both the structural features of private sectors that remain underdeveloped in most SEMCs and specific issues, such as lack of access to finance, the high incidence of informality and low integration into global value chains.
The proposed policy road map provides a comprehensive framework to formulate, implement and monitor a fully-fledged MSME policy and to mainstream a 'Think Small First' principle in all policy areas relevant to the development of MSMEs. The policy road map is designed to complement the assessments of SME policies within SEMCs conducted by the OECD, EU and ETF (2008; 2014; 2018) and includes a discussion on the role that the EU can play to support its implementation.