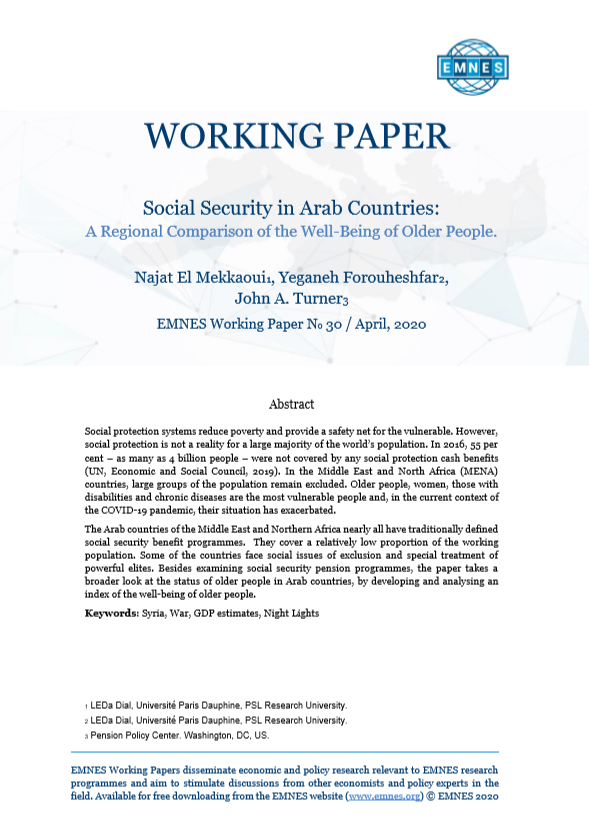 EMNES Working Paper 030
Social protection systems reduce poverty and provide a safety net for the vulnerable. However, social protection is not a reality for a large majority of the world's population. In 2016, 55 per cent – as many as 4 billion people – were not covered by any social protection cash benefits (UN, Economic and Social Council, 2019). In the Middle East and North Africa (MENA) countries, large groups of the population remain excluded. Older people, women, those with disabilities and chronic diseases are the most vulnerable people and, in the current context of the COVID-19 pandemic, their situation has exacerbated.
The Arab countries of the Middle East and Northern Africa nearly all have traditionally defined social security benefit programmes.  They cover a relatively low proportion of the working population. Some of the countries face social issues of exclusion and special treatment of powerful elites. Besides examining social security pension programmes, the paper takes a broader look at the status of older people in Arab countries, by developing and analysing an index of the well-being of older people.
Co-authors/Contributors
RESEARCH FIELDS