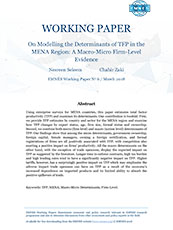 On Modelling the Determinants of TFP in the MENA Region: A Macro-Micro Firm-Level Evidence
Nesreen Seleem, Chahir Zaki
14/03/2018
Using enterprise surveys for MENA countries, this paper estimates total factor productivity (TFP) and examines its determinants. Our contribution is twofold. First, we provide TFP estimates by country and sector for the MENA region and examine how TFP changes by export status, age, firm size, formal status and ownership. Second, we combine both micro (firm level) and macro (nation level) determinants of TFP. Our findings show that among the micro determinants, government ownership, foreign capital, female managers, owning a foreign certification, and formal registrations of firms are all positively associated with TFP, with competition also exerting a positive impact on firms' productivity. All the macro determinants on the other hand, with the exception of trade openness, display the expected impact on TFP as suggested by the literature. Longer time to enforce contracts, high tax burden and high lending rates tend to have a significantly negative impact on TFP. Higher tariffs, however, has a surprisingly positive impact on TFP which may emphasize the adverse impact trade openness can have on TFP as a result of the economy's increased dependence on imported products and its limited ability to absorb the positive spillovers of trade.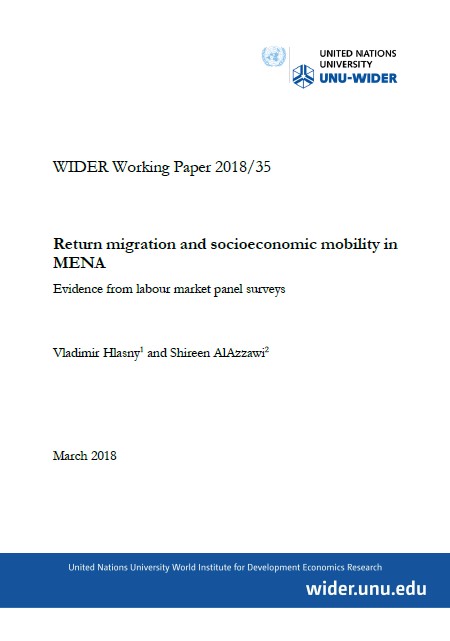 Return migration and socioeconomic mobility in MENA:Evidence from labour market panel surveys
Vladimir Hlasny and Shireen AlAzzawi
08/03/2018
This study examines the effects of cross-border return migration on intertemporal and intergenerational transmission of socio-economic status across six new harmonized surveys from three Arab countries: Egypt (1998, 2006, 2012), Jordan (2010, 2016) and Tunisia (2014). We link individuals' current outcomes to those in prior years and to their parents' outcomes. We first isolate the outcomes of interest – income, employment status, household wealth based on both productive and non-productive assets, and residence status. Next, we evaluate individuals' socioeconomic mobility over time and across generations as a function of their migration histories. Return migrants, current migrants, and (yet) non-migrants are distinguished. Transitions in individuals' outcomes across years and generations are made functions of pre-existing socioeconomic status, demographics and migration status.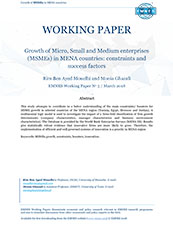 Growth of Micro, Small and Medium enterprises (MSMEs) in MENA countries: constraints and success factors
Rim Ben Ayed Mouelhi and Monia Ghazali
05/03/2018
This study attempts to contribute to a better understanding of the main constraints/ boosters for MSME growth in selected countries of the MENA region (Tunisia, Egypt, Morocco and Jordan). A multinomial logit model is used to investigate the impact of a three-fold classification of firm growth determinants (company characteristics, manager characteristics and business environment characteristics). The Database is provided by the World Bank Enterprise Surveys (MENA ES). Results give statistically robust evidence that innovative firms are more likely to grow. Therefore, the implementation of efficient and well governed systems of innovation is a priority in MENA region.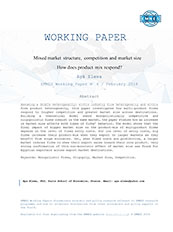 Mixed market structure, competition and market size- How does product mix respond?
Aya Elewa
28/02/2018
Assuming a double heterogeneity; within industry firm heterogeneity and within firm product heterogeneity, this paper investigates how multi-product firms respond to tougher competition and greater market size across destinations. Building a theoretical model where monopolistically competitive and oligopolistic firms coexist in the same market, the paper studies how an increase in market size affects both types of firms' behavior. The model shows that the final impact of bigger market size on the product-mix of multiproduct firms depends on the level of fixed entry costs. For low level of entry costs, big firms increase their product-mix when they export to larger markets as they benefit from scope economies. Yet, when fixed costs are prohibitive, a larger market induces firms to skew their export sales toward their core product. Very strong confirmation of this non-monotonic effect of market size was found for Egyptian exporters across export market destinations.
Do Institutions Matter for Informal Employment in Jordan, Egypt and Tunisia?
Asmaa Ezzat, Hanan Nazier, Racha Ramadan
27/02/2018
The paper sheds light on the role of institutions, in addition to values and individual characteristics on the likelihood of being informally employed in Jordan, Egypt and Tunisia.  Using the Labour Market Panel Surveys of the three countries, in addition to the World Value Survey and the World Governance Indicators, we examine determinants of informal employment. Our results show education and values play an important role in the decision to be  informally employed. Moreover, institutions matter in the informality decision.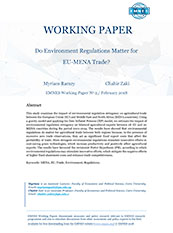 Do Environment Regulations Matter for EU-MENA Trade?
Myriam Ramzy, Chahir Zaki
26/02/2018
This study examines the impact of environmental regulation stringency on agricultural trade between the European Union (EU) and Middle East and North Africa (MENA countries). Using a gravity model and applying the Zero Inflated Poisson (ZIP) model, we estimate the impact of environmental regulation stringency on bilateral agricultural exports between 28 EU and 20 MENA countries during the period 2001-2014. The results have showed that environmental regulations do matter for agricultural trade between both regions because, in the presence of excessive zero trade observations, they act as significant fixed export costs that affect the probability of trade. More stringent environmental regulations stimulate innovative efforts in cost-saving green technologies, which increase productivity and positively affect agricultural exports. The results have favoured the revisionist Porter Hypothesis (PH), according to which environmental regulations may stimulate innovative efforts, which mitigate the negative effects of higher fixed abatement costs and enhance trade competitiveness.
Institutions and labour markets in the Southern Mediterranean countries – A survey of Egypt, Jordan, Morocco & Tunisia
Ahmed Badawi and Cilja Harders (lead authors), Asmaa Ezzat, Hanan Nazier, and Racha Ramadan (Egypt), Nooh Elshyab and Serena Sandri (Jordan), Sarra Ben Slimane and Moez Ben Tahar (Tunisia), Zakaria Aboueddahab and Boutaïna Bensalem (Morocco)
15/02/2018
This paper provides a survey of the institutional environment in which labour markets in Egypt, Jordan, Morocco and Tunisia are embedded. The paper presents an overview of the main recent demographic and employment trends. It then provides a comprehensive analysis of those sections in the constitutions of the four countries and of the various labour laws and regulations that are relevant for employment and social justice. In addition, the paper explores the role of informal institutions and practical norms in shaping the behaviour of employers and employees, and highlights the problem of the weak capacity of the state to enforce labour market rules.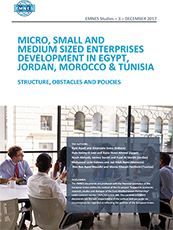 Micro, Small and Medium Sized Enterprises Development in Egypt, Jordan, Morocco & Tunisia: Structure, Obstacles and Policies
Rym Ayadi and Emanuele Sessa, Hala Helmy El Said and Rana Hosni Ahmed, Nooh Alshyab, Serena Sandri and Fuad Al Sheikh, Mohamed Larbi Sidmou and Jad Allah Rami, Rim Ben Ayed Mouelhi and Monia Ghazali Ferchichi
04/12/2017
The study provides a snap shot of the current status quo in Egypt, Jordan, Morocco and Tunisia regarding the development of their private sectors, with a focus on micro, small and medium enterprises. It will be used as a baseline for the definition of a robust research agenda that ultimately aims at providing sound recommendations for policy makers to improve developmental outcomes and, especially, the contribution of micro, small and medium enterprises to employment creation.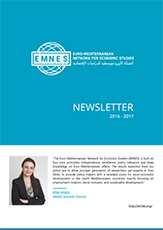 EMNES Newsletter 2016-2017
Euro-Mediterranean Network for Economic Studies (EMNES)
27/11/2017
The Euro-Mediterranean Network for Economic Studies (EMNES) 2016-2017 Newsletter presents the structure, aims and activities of the Network. The Newsletter also outlines the major landmarks and events of the organization, as well as, the publications of EMNES researchers.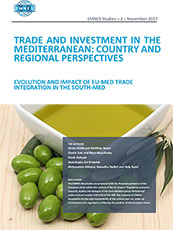 Trade and investment in the Mediterranean: Country and regional perspectives
Cinzia Alcidi and Matthias Busse, Chahir Zaki and Nora AbouShady, Nooh Alshyab, Abdelkader Ait El Mekki, Abdessalem Abbassi, Raoudha Hadhri, Hela Ayari
12/11/2017
The Southern Mediterranean region is economically closely linked to the EU. Both regions have sought to tighten this relationship via preferential trade agreements. Along four case countries, namely Egypt, Jordan, Morocco and Tunisia, this study provides an overview of the current state and trend of trade flows vis-à-vis the EU. The four country reports evaluate the process of trade liberalization and its impact on trade with the EU and the rest of the world. Recently, liberalisation efforts have been channeled into the Deep and Comprehensive Free Trade Agreements (DCFTAs), which focus on non-tariff barriers and investment obstacles. The study emphasises that while impact assessment reports predict large economic gains for the Southern Mediterranean region from DCFTAs, negotiation have lately slowed down. The DCFTAs may have a large potential but the right sequencing and velocity need to be carefully established and prepared to ensure that the society at large benefits.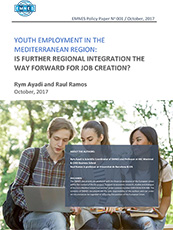 Youth employment in the Mediterranean region: Is further regional integration the way forward for job creation?
Rym Ayadi, Raul Ramos
16/10/2017
The employment and social impact of the global financial and sovereign European crises has been particularly severe in the Euro-Mediterranean region. Southern, Eastern and Northern Mediterranean countries have all been experiencing a prolonged employment crisis, whereas the improving employment trend in Northern European countries and related attractiveness for unemployed individuals across the region underpins unprecedented migratory pressures. This policy paper first delves into the challenge of youth unemployment in the Mediterranean region, explains the underlying reasons from a labour supply and demand and provides recommendations on how further regional integration can tackle this challenge.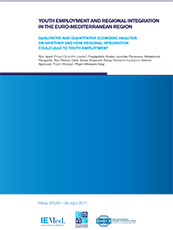 Youth employment and regional integration in the Euro-Mediterranean region – Qualitative and quantitative economic analysis on whether and how regional integration could lead to youth employment
Rym Ayadi, Fragkiadakis Kostas, Leonidas Paroussos, Karkatsoulis Panagiotis, Raul Ramos, Carlo Sessa, Emanuele Sessa
20/07/2017
The overall objective of this study is to examine how regional integration can provide both short-term and long-term solutions to the employment crisis in the Euro-Mediterranean region. The study targets both increased employment creation for and improved employability of youngsters in Southern and Northern Mediterranean countries, facing persistently high and increasingly unsustainable youth unemployment rates. The analysis conducted explores the conditions under which regional integration would contribute to enhance employment creation besides sustaining output growth, which is a precondition for the expansion of employment opportunities, yet not systematically translating into higher levels of employment. It will also bring evidence of the costs, in terms of rising inequalities and persistent instability, of not engaging in a path of regional integration conducive to inclusive growth.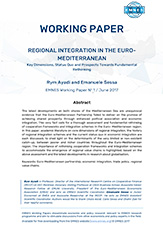 Regional integration in the Euro-Mediterranean
Rym Ayadi, Emanuele Sessa
28/06/2017
Several decades of Euro-Mediterranean cooperation did not translate into any substantial advancement in regional integration excepted some progress in trade liberalisation, nonetheless limited both in depth – tariff waiving without further harmonization – and in scope – not all sectors covered. It is not surprising that under these conditions, also considering the negative implications of the Great Recession and widespread instability in the aftermath of the Arab uprisings, economic catch-up between poorer and richer countries in the Euro-Mediterranean region did not materialise.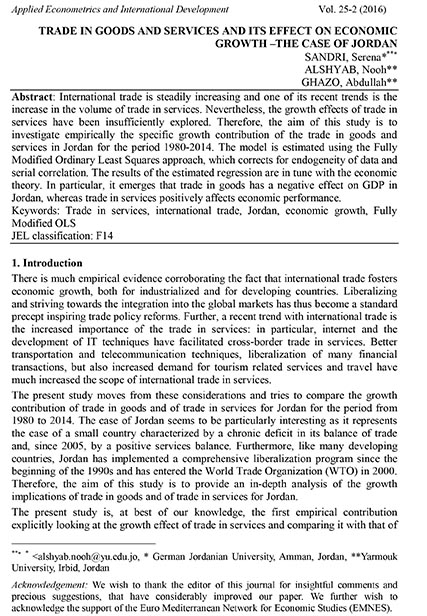 Trade in Goods and Services and Its Effect on Economic Growth –The Case of Jordan. Applied Econometrics and International Development
Sandri, S.; Alshyab, N.; Ghazo
31/12/2016
The paper aims at empirically investigating the specific growth contribution of the trade in goods and services in Jordan for the period 1980-2014. The model is estimated using the Fully Modified Ordinary Least Squares approach. Among the results, it emerges that trade in goods has a negative effect on GDP in Jordan, whereas trade in services positively affects economic performance.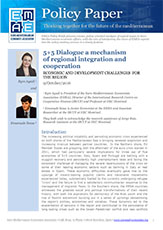 5+5 Dialogue a mechanism of regional integration and cooperation
Rym Ayadi, Emanuele Sessa
09/10/2016
This paper looks into the integration patterns between the 5+5 countries by assessing the most recent evolutions of investment, trade and employment in the region to highlight such challenges and formulates recommendations to pave the way for dialogue and cooperation conducive to tangible results on which to build a new momentum for integration in the region.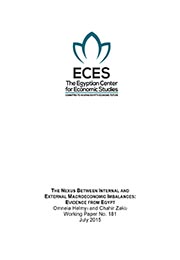 Working Paper: The Nexus Between Internal and External Macroeconomic Imbalances – Evidence from Egypt
Omneia Helmy, Chahir Zaki
31/07/2015
This paper examines the nexus between internal and external imbalances of the Egyptian economy. In fact, both the twin-deficit hypothesis (TDH) and the Feldstein–Horioka (FH) paradox are examined. Using quarterly data (between 2002 and 2014) in order to capture the short-term dynamics that might affect the Egyptian economy, a Granger causality test and an error-correction model are run in order to determine both the short-term adjustment and the long-run relationship between internal and external imbalances. Our main findings show that the TDH is rejected and a reversed causality running from the current account to the budget deficit exits. Moreover, the FH puzzle is partially rejected since Egypt, while not being perfectly integrated in the world capital market, has a high degree of capital mobility.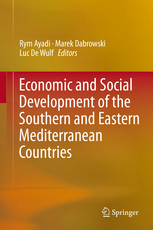 Economic and Social Development of the Southern and Eastern Mediterranean Countries
Rym Ayadi, Marek Dabrowski, Luc De Wulf
10/11/2014
This book contains a unique collection of studies on key economic and social policy challenges faced by countries of the Southern and Eastern Mediterranean region in a short- and long-term perspective. Prepared within the EU funded FP7 project on "Prospective Analysis for the Mediterranean Region (MEDPRO)" conducted in 2010-2013 it takes account on recent political developments in the region (Arab Spring) and their potential consequences. It covers a broad spectrum of topics such as factors of economic growth, macroeconomic and fiscal stability, trade and investment, Euro-Mediterranean and intra-regional economic integration, private sector development and privatizations, infrastructure, tourism, agriculture, financial sector development, poverty and inequality, education, labor market and gender issues.
http://www.springer.com/economics/development/book/978-3-319-11121-6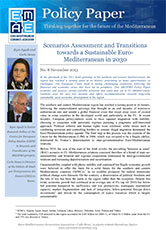 Scenarios Assessment and Transitions towards a Sustainable Euro-Mediterranean in 2030
Rym Ayadi, Carlo Sessa
30/11/2013
In the aftermath of the 2011 Arab uprisings in the southern and eastern Mediterranean, the region has reached a turning point in its history, presenting as many opportunities as challenges. The European Union itself is facing challenging conditions following the financial and economic crises that have hit its periphery. This MEDPRO Policy Paper examines and assesses various possible scenarios that could play out in EU-Mediterranean relations over the next two decades and offers recommendations towards long-term sustainable socio-economic development in the region.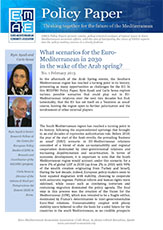 What scenarios for the Euro-Mediterranean in 2030?
Rym Ayadi, Carlo Sessa
25/02/2013
The Southern Mediterranean region is at a historical turning point following the unprecedented uprisings that ended many decades of repressive authoritarian regimes. Before 2010, and the start of the Arab uprisings, the 'business as usual' scenario prevailed in a blend of un-sustainability and partial Euro-Mediterranean cooperation. Un-sustainability, coupled with phoney stability, was thought to be the long-term future for southern Mediterranean countries, as no credible prospects for radical democratic political changes were envisaged.