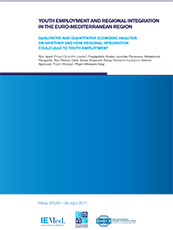 Youth employment and regional integration in the Euro-Mediterranean region – Qualitative and quantitative economic analysis on whether and how regional integration could lead to youth employment
Rym Ayadi, Fragkiadakis Kostas, Leonidas Paroussos, Karkatsoulis Panagiotis, Raul Ramos, Carlo Sessa, Emanuele Sessa
20/07/2017
The overall objective of this study is to examine how regional integration can provide both short-term and long-term solutions to the employment crisis in the Euro-Mediterranean region. The study targets both increased employment creation for and improved employability of youngsters in Southern and Northern Mediterranean countries, facing persistently high and increasingly unsustainable youth unemployment rates. The analysis conducted explores the conditions under which regional integration would contribute to enhance employment creation besides sustaining output growth, which is a precondition for the expansion of employment opportunities, yet not systematically translating into higher levels of employment. It will also bring evidence of the costs, in terms of rising inequalities and persistent instability, of not engaging in a path of regional integration conducive to inclusive growth.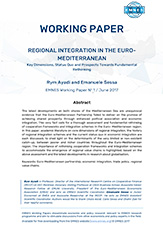 Regional integration in the Euro-Mediterranean
Rym Ayadi, Emanuele Sessa
28/06/2017
Several decades of Euro-Mediterranean cooperation did not translate into any substantial advancement in regional integration excepted some progress in trade liberalisation, nonetheless limited both in depth – tariff waiving without further harmonization – and in scope – not all sectors covered. It is not surprising that under these conditions, also considering the negative implications of the Great Recession and widespread instability in the aftermath of the Arab uprisings, economic catch-up between poorer and richer countries in the Euro-Mediterranean region did not materialise.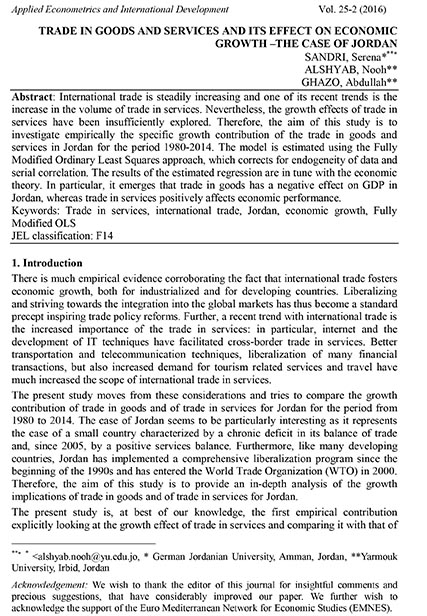 Trade in Goods and Services and Its Effect on Economic Growth –The Case of Jordan. Applied Econometrics and International Development
Sandri, S.; Alshyab, N.; Ghazo
31/12/2016
The paper aims at empirically investigating the specific growth contribution of the trade in goods and services in Jordan for the period 1980-2014. The model is estimated using the Fully Modified Ordinary Least Squares approach. Among the results, it emerges that trade in goods has a negative effect on GDP in Jordan, whereas trade in services positively affects economic performance.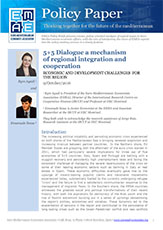 5+5 Dialogue a mechanism of regional integration and cooperation
Rym Ayadi, Emanuele Sessa
09/10/2016
This paper looks into the integration patterns between the 5+5 countries by assessing the most recent evolutions of investment, trade and employment in the region to highlight such challenges and formulates recommendations to pave the way for dialogue and cooperation conducive to tangible results on which to build a new momentum for integration in the region.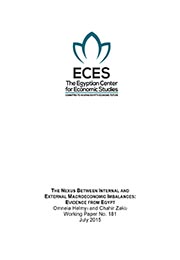 Working Paper: The Nexus Between Internal and External Macroeconomic Imbalances – Evidence from Egypt
Omneia Helmy, Chahir Zaki
31/07/2015
This paper examines the nexus between internal and external imbalances of the Egyptian economy. In fact, both the twin-deficit hypothesis (TDH) and the Feldstein–Horioka (FH) paradox are examined. Using quarterly data (between 2002 and 2014) in order to capture the short-term dynamics that might affect the Egyptian economy, a Granger causality test and an error-correction model are run in order to determine both the short-term adjustment and the long-run relationship between internal and external imbalances. Our main findings show that the TDH is rejected and a reversed causality running from the current account to the budget deficit exits. Moreover, the FH puzzle is partially rejected since Egypt, while not being perfectly integrated in the world capital market, has a high degree of capital mobility.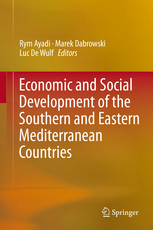 Economic and Social Development of the Southern and Eastern Mediterranean Countries
Rym Ayadi, Marek Dabrowski, Luc De Wulf
10/11/2014
This book contains a unique collection of studies on key economic and social policy challenges faced by countries of the Southern and Eastern Mediterranean region in a short- and long-term perspective. Prepared within the EU funded FP7 project on "Prospective Analysis for the Mediterranean Region (MEDPRO)" conducted in 2010-2013 it takes account on recent political developments in the region (Arab Spring) and their potential consequences. It covers a broad spectrum of topics such as factors of economic growth, macroeconomic and fiscal stability, trade and investment, Euro-Mediterranean and intra-regional economic integration, private sector development and privatizations, infrastructure, tourism, agriculture, financial sector development, poverty and inequality, education, labor market and gender issues.
http://www.springer.com/economics/development/book/978-3-319-11121-6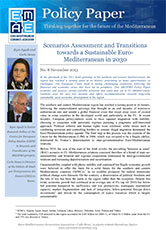 Scenarios Assessment and Transitions towards a Sustainable Euro-Mediterranean in 2030
Rym Ayadi, Carlo Sessa
30/11/2013
In the aftermath of the 2011 Arab uprisings in the southern and eastern Mediterranean, the region has reached a turning point in its history, presenting as many opportunities as challenges. The European Union itself is facing challenging conditions following the financial and economic crises that have hit its periphery. This MEDPRO Policy Paper examines and assesses various possible scenarios that could play out in EU-Mediterranean relations over the next two decades and offers recommendations towards long-term sustainable socio-economic development in the region.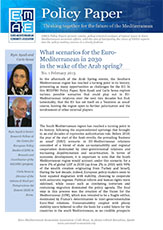 What scenarios for the Euro-Mediterranean in 2030?
Rym Ayadi, Carlo Sessa
25/02/2013
The Southern Mediterranean region is at a historical turning point following the unprecedented uprisings that ended many decades of repressive authoritarian regimes. Before 2010, and the start of the Arab uprisings, the 'business as usual' scenario prevailed in a blend of un-sustainability and partial Euro-Mediterranean cooperation. Un-sustainability, coupled with phoney stability, was thought to be the long-term future for southern Mediterranean countries, as no credible prospects for radical democratic political changes were envisaged.