Institutions and labour markets in the Southern Mediterranean countries – A survey of Egypt, Jordan, Morocco & Tunisia
Ahmed Badawi and Cilja Harders (lead authors), Asmaa Ezzat, Hanan Nazier, and Racha Ramadan (Egypt), Nooh Elshyab and Serena Sandri (Jordan), Sarra Ben Slimane and Moez Ben Tahar (Tunisia), Zakaria Aboueddahab and Boutaïna Bensalem (Morocco)
20/10/2017
This paper provides a survey of the institutional environment in which labour markets in Egypt, Jordan, Morocco and Tunisia are embedded. The paper presents an overview of the main recent demographic and employment trends. It then provides a comprehensive analysis of those sections in the constitutions of the four countries and of the various labour laws and regulations that are relevant for employment and social justice. In addition, the paper explores the role of informal institutions and practical norms in shaping the behaviour of employers and employees, and highlights the problem of the weak capacity of the state to enforce labour market rules.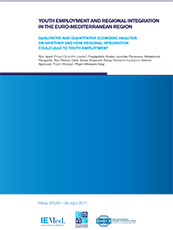 Youth employment and regional integration in the Euro-Mediterranean region – Qualitative and quantitative economic analysis on whether and how regional integration could lead to youth employment
Rym Ayadi, Fragkiadakis Kostas, Leonidas Paroussos, Karkatsoulis Panagiotis, Raul Ramos, Carlo Sessa, Emanuele Sessa
20/07/2017
The overall objective of this study is to examine how regional integration can provide both short-term and long-term solutions to the employment crisis in the Euro-Mediterranean region. The study targets both increased employment creation for and improved employability of youngsters in Southern and Northern Mediterranean countries, facing persistently high and increasingly unsustainable youth unemployment rates. The analysis conducted explores the conditions under which regional integration would contribute to enhance employment creation besides sustaining output growth, which is a precondition for the expansion of employment opportunities, yet not systematically translating into higher levels of employment. It will also bring evidence of the costs, in terms of rising inequalities and persistent instability, of not engaging in a path of regional integration conducive to inclusive growth.